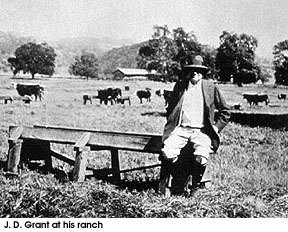 Joseph D. Grant and Grant Ranch Park,
presented by Lisa Pappanastos
Make Reservations by Wednesday, Nov. 29th
Email to sccpioneers@aol.com or call 408-554-7587 with your menu selection
If, after reserving, you cannot attend the Luncheon PLEASE call or e-mail to cancel your reservations.
Lisa Pappanastos will discuss Grant Park, why Joseph D. Grant is an important figure in America's history and what makes the Mount Hamilton area's history unique. She will also present background on the rancho days of Cañada de Pala and the early settlers to the region.
Lisa holds a BA degree in Recreation Management and has worked for the Santa Clara County Parks and Recrea-tion Department since 1995. She has done extensive re-search, along with Ron Bricmont, on the history of Grant Ranch Park and the Grant Family, inspired by working there for 18 years. Lisa presently works at Martial Cottle Park.
At the same time Lisa and Ron were searching for history, they also repaired the interior of the Grant Ranch House and transformed it into a museum.
In 2001, Lisa met Elspeth Grant Bobbs, Joseph D. Grant's grand-daughter, at her vacation home in Carmel.
Through Lisa's relationship with Elspeth and her family, actual family artifacts and photographs were
loaned for display in the house. The house has received an interior facelift and all of the rooms have been redecorated to give the feel of a home in the 1930s.
The Grant Ranch House still needs some major repairs that are planned for next spring, but funding could be an obstacle. The house and complex of buildings are quite spectacular. Don't miss this excellent presentation. RSVP now!
Luncheon cost is now $35.00 – Please make checks payable in advance to California Pioneers and bring to Luncheon.
Menu Selections:
Three Flames Special Steak: tri-tip steak topped with sautéed mushrooms
Breast of Chicken Sauté: Boneless breast with white wine & mushroom sauce
[Both above served with red potatoes & fresh vegetables]
Grilled Salmon with Lemon Dill Sauce
Pasta Primavera: Penne Pasta, fresh sautéed vegetables, marinara sauce
All of the above served with Salad, Coffee and Dessert No-Host Bar for soft drinks, beer and wine
Parking is limited in front of the restaurant; however, ample parking is available in the rear and close to a separate banquet room entrance.